Welcome!
Clearly inspired by what software engineers have accomplished, open source is a concept that is slowly making it's way into other engineering disciplines. Although mostly in the area of electronics accompanying open source software, there are also projects that include a great deal of mechanical engineering that can be found on the internet.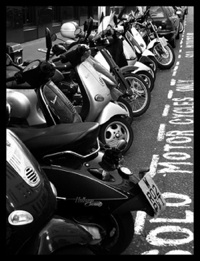 As with open source software, I believe that this concept also has the potential to alter certain fields of mechanical engineering. With software, this area is mostly at the foundation of services or for standard functionality like server software, operating systems or office suites. In mechanical engineering I see a similar direction and therefore dedicate this website to projects that address our more fundamental needs like mobility or power generation. Starting out with the idea to design a scooter with open source principles that could be build around the world from Los Angeles to Tokyo, to help reduce pollution, I realized the potential of this concept of sharing know how and therefore do not want to limit this site to a single project. Furthermore, by having all the know how necessary to produce a product with a fair amount of sophistication publicized on the internet, open source engineering could also one day play a part in the industrialization of developing countries.
There are two main goals to be achieved. One is to compile sets of documents that would allow anyone to build and then use or sell a product. The second goal, of no lesser importance, is to develop a strategy to manufacture and market a product with an open source.